Dress Up Like Dr. Doom from Fantastic Four
If you are looking for a good Dr Doom costume for Halloween or a big cosplay event, here's the winning formula for creating the most exciting outfit of the party! Let's see how to dress up as Dr Doom from Fantastic Four.
Costume Guide For COSPLAY & HALLOWEEN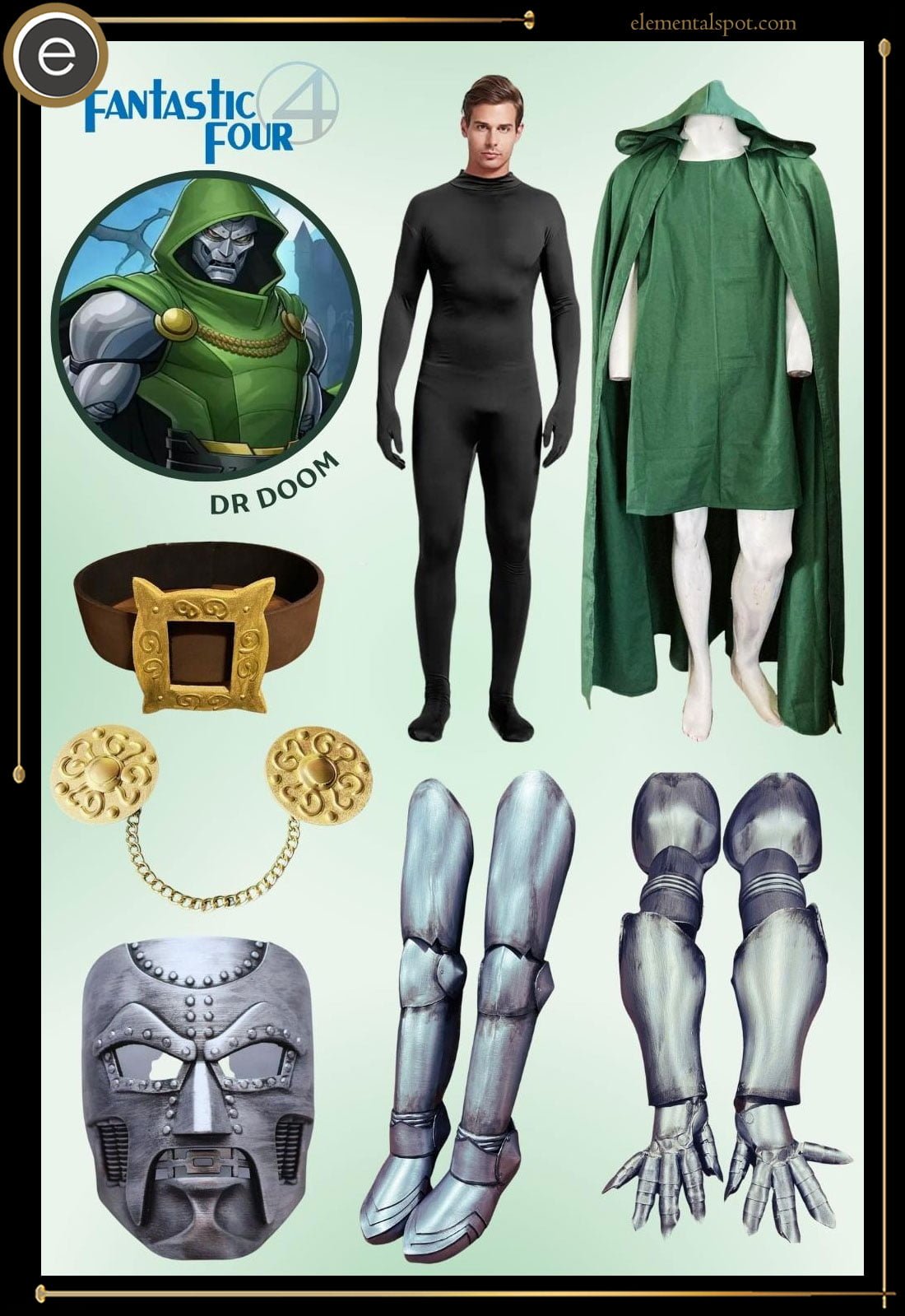 Get!
Get!
Get!
Get!
Get!
Get!
Get!
Dr Doom from Fantastic Four Costume Guide
Shopping List for Dr Doom from Fantastic Four Costume & Outfit
Embrace your inner supervillain and step into the shoes of one of Marvel's most iconic antagonists, Dr. Doom from the Fantastic Four series. In this comprehensive guide, we'll show you how to create a Dr. Doom costume that exudes power, intellect, and undeniable style. So, if you're ready to channel your inner villain, let's dive into the world of cosplay and dress up as the enigmatic Doctor Doom.
Meet the Mastermind Behind the Mask – Dr. Doom's Background
Before we plunge into the intricacies of crafting a remarkable Dr. Doom costume, let's acquaint ourselves with the enigmatic character behind the mask. Dr. Victor Von Doom, often simply known as Doctor Doom, emerges as a formidable presence within the Marvel Universe. Possessing vast amounts of wealth, knowledge, technology, and power, he is undeniably one of the most menacing villains not only on Earth but also throughout the entire Marvel Multiverse.
A polymath, scientist, and inventor of unparalleled genius, Doctor Doom's intellect is nothing short of awe-inspiring. He effortlessly straddles the realms of science and dark arts, a rare combination that sets him apart as a true mastermind. His vast wealth and resources further amplify his influence, allowing him to orchestrate complex schemes and wield incredible technological might.
Doctor Doom's reputation as a formidable adversary extends far and wide. While he is famously recognized as the archenemy of Reed Richards and the Fantastic Four, he's not content with restricting his ambitions to a single group of heroes. His confrontations have left an indelible mark on a diverse array of iconic Marvel characters. Let's mention Spider-Man (here is the costume guide), Iron Man, Doctor Strange, the Black Panther, the X-Men (DIY Beast from X-Men Costume), and the Avengers.
Yet, what makes Doctor Doom's character all the more intriguing is his complex persona. At times, he treads the fine line between villainy and antiheroism, collaborating with heroes when it aligns with his ulterior motives. His actions are guided by his strategic prowess, analytical skills, and his uncanny ability to decipher intricate patterns within complex systems. It's these multifaceted qualities that define Doctor Doom's character and make him an enduring presence in the Marvel Universe."
Now, let's proceed to delve into the details of creating the Dr. Doom costume.
Crafting the Dr Doom Fantastic Four Costume
Now that we've delved into the depths of Doctor Doom's character, it's time to assemble the elements of his iconic costume. To embody the essence of this formidable villain, you'll need the following items:
Green Cosplay Full Cloak: The foundation of your Dr. Doom ensemble begins with a green hooded cloak. This distinctive green garment serves as the primary canvas for your transformation into the supervillain.
Gold Cloak and Clasp: Dr. Doom's regal appearance is incomplete without his gold cloak and clasp. Look for a rich, flowing cloak with a matching clasp to drape over your costume.
Black Bodysuit: Underneath the green costume, wear a black bodysuit to emulate the armored look of Doctor Doom. This adds depth and dimension to your outfit.
Mask: The most distinctive feature of Doctor Doom is his metal mask with a menacing expression. You can purchase a pre-made mask or craft your own using materials like foam or plastic. Don't forget to leave room for your eyes for visibility.
Belt: A black or green belt will cinch your waist, accentuating the iconic armor plating look of Doctor Doom's suit.
Arm Armor: Emulate the metallic armor of Doctor Doom by adding arm guards to both of your arms. These can be made from foam or plastic and painted in silver or metallic shades for an authentic appearance.
Leg Armor: Complete the armored look by adding leg guards or shin armor to your legs. Like the arm armor, these can be fashioned from foam or plastic and painted to match the rest of your costume.
YouTube Videos: Dr. Doom Cosplay Tutorial
How to Make a Doctor Doom Cosplay Mask
One of the noteworthy projects on the bucket list involves crafting Dr. Doom's iconic mask. This video guide above will walk you through the steps taken to construct and paint this striking mask. You have the opportunity to embark on a similar creative journey. Additionally, Free PDF templates for the mask are available on the creator's website, ensuring you have all the necessary resources at your disposal.
The Dr. Doom mask featured in this tutorial is a fusion of design elements drawn from various comic book references and the live-action films. However, you're encouraged to customize it according to your preferences and creativity.
In the linked YouTube tutorial, you'll find some ideas on creating a stunning Dr. Doom cosplay. Follow along with the tutorial to achieve a professional-quality costume that captures the essence of this iconic Marvel villain.
Of course, you can explore more about Doctor Doom's creators and the Fantastic Four series on Marvel's official website or Wikipedia.
Explore More Costume Ideas
If you're looking for additional costume inspiration, be sure to visit our main costume page at ElementalSpot's Costumes. Whether you're a hero or a villain at heart, you'll discover a plethora of costume ideas to help you stand out at dress-up parties, cosplay events, or conventions.
In conclusion, dressing up as Dr. Doom offers a thrilling opportunity to embody the complexity of one of Marvel's most iconic villains. With the right costume elements and a touch of confidence, you'll leave a lasting impression at any cosplay event. So, don your cloak and mask, and embrace your inner villain as you step into the world of Doctor Doom!
Missing an Outfit Inspo? Submit your idea and we'll make it happen!
Monthly Newsletter
Subscribe and get your Halloween costume ideas from us each year.