Dress Up Like Catra at Princess Prom from She Ra
If you are looking for a good Catra at Princess Prom costume for Halloween or a big cosplay event, here's the winning formula for creating the most exciting outfit of the party! Let's see how to dress up as Catra at Princess Prom from She Ra.
Costume Guide For COSPLAY & HALLOWEEN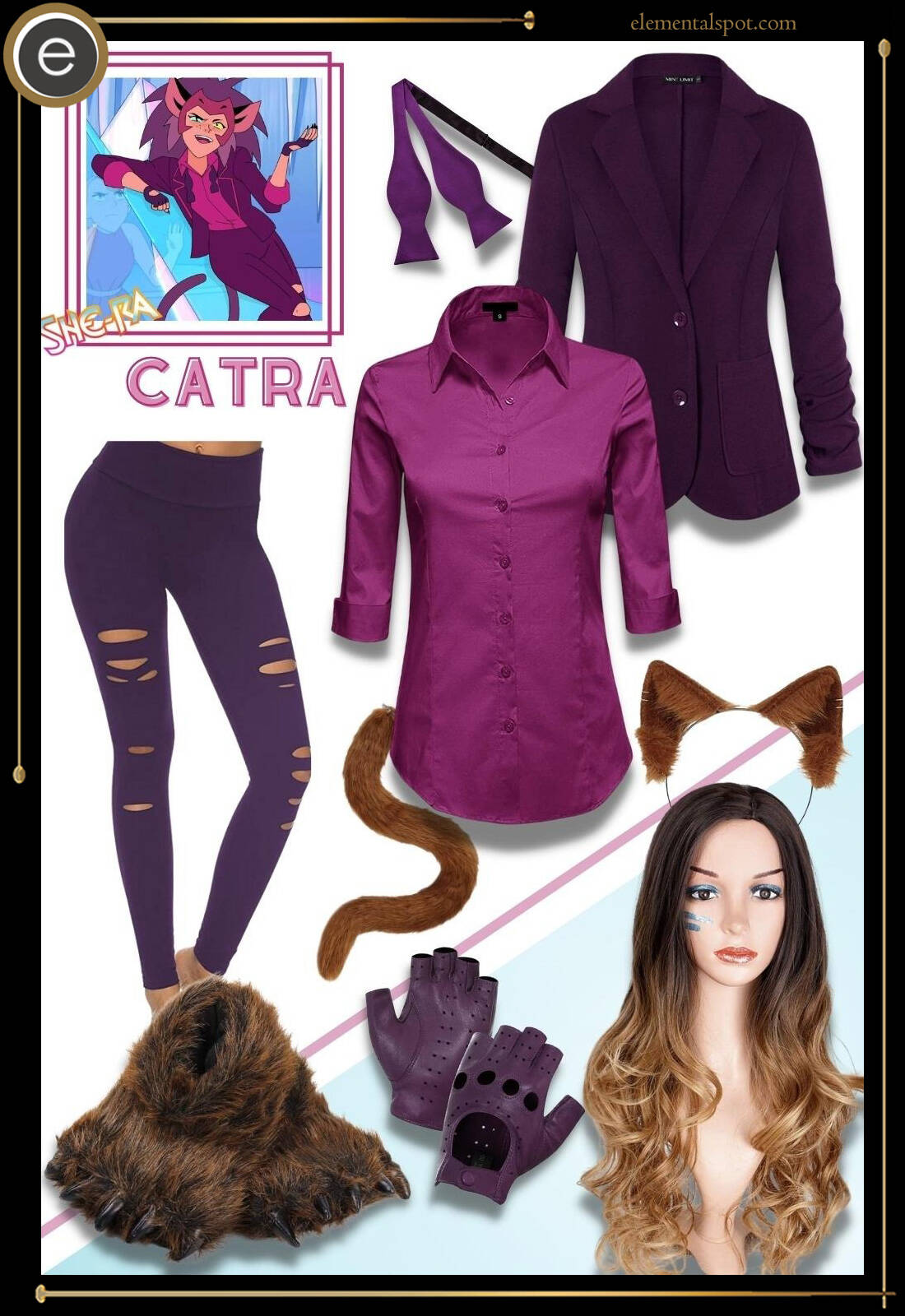 Catra at Princess Prom from She Ra Costume Guide
Shopping List for Catra at Princess Prom from She Ra Costume & Outfit
Scratching out the competition
The She-Ra series was a classic of the 80s but the 2018 revival definitely brought it to new heights with its story-telling and characters. The second it came to life, it was all of the rage and more. Especially the protagonist and the deuteragonist/central antagonist, Catra. Are you ready to represent her in your amazing cosplay? Let's create Catra at Princess Prom She Ra costume!
Who is Catra?
Catra started out as a cadet in the Horde and was then promoted to the rank of Force Captain and eventually served as a second-in-command. She was raised by the dark sorceress Shadow Weaver alongside her best friend Adora. Unfortunately, Shadow Weaver wasn't as kind of a mother as one would need and often taunted or chastised Catra in front of Adora. Soon, Adora had left the Horde and after Catra tried to convince her to return, realizing her friend wasn't going to, she was filled with anger over what felt like betrayal and that was enough to fuel her ambitions.
Bringing Catra's Style to Life
Outside of battle, Catra actually cleans up quite nicely and she definitely shows it with her style of fashion choices. Although she seems to stick to the same sort of color palette but there's nothing wrong with that.
Start out with the most simple part of the outfit, a fuchsia button-up, long-sleeved and collared. Make sure your buttons are buttoned all of the way up and then add a pair of dark purple leggings with slits on the thighs of the pants. Catra seems to love her cut pants, possibly a nod to her nails and cat-like appearance.
Next, a bow tie but don't bother to tie it, leave it hanging around your shoulders as if you forgot about it all along. A dark purple suit jacket over the shirt and a pair of dark purple fingerless gloves will add to this look nicely.
Don't forget to get a brown wig with longer, fluffy hair and some cat ears to rest on top. You're also welcome to get a cat tail and some cat slippers to really sell the whole look!
Proud of what you've accomplished? You should be! The creators, Larry DiTillo, Diane Keener, and J Michael Straczynski made a wonderful story and its characters This Catra cosplay is just the start of something new for you, and don't let it slow you down now!
For a wide range of costume ideas and inspiration for various characters, check out our main costume page featuring a diverse collection of costumes for every occasion.
Missing an Outfit Inspo? Submit your idea and we'll make it happen!
Monthly Newsletter
Subscribe and get your Halloween costume ideas from us each year.