Dress Up Like Cara Dune from The Mandalorian
If you are looking for a good Cara Dune costume for Halloween or a big cosplay event, here's the winning formula for creating the most exciting outfit of the party! Let's see how to dress up as Cara Dune from The Mandalorian.
Costume Guide For COSPLAY & HALLOWEEN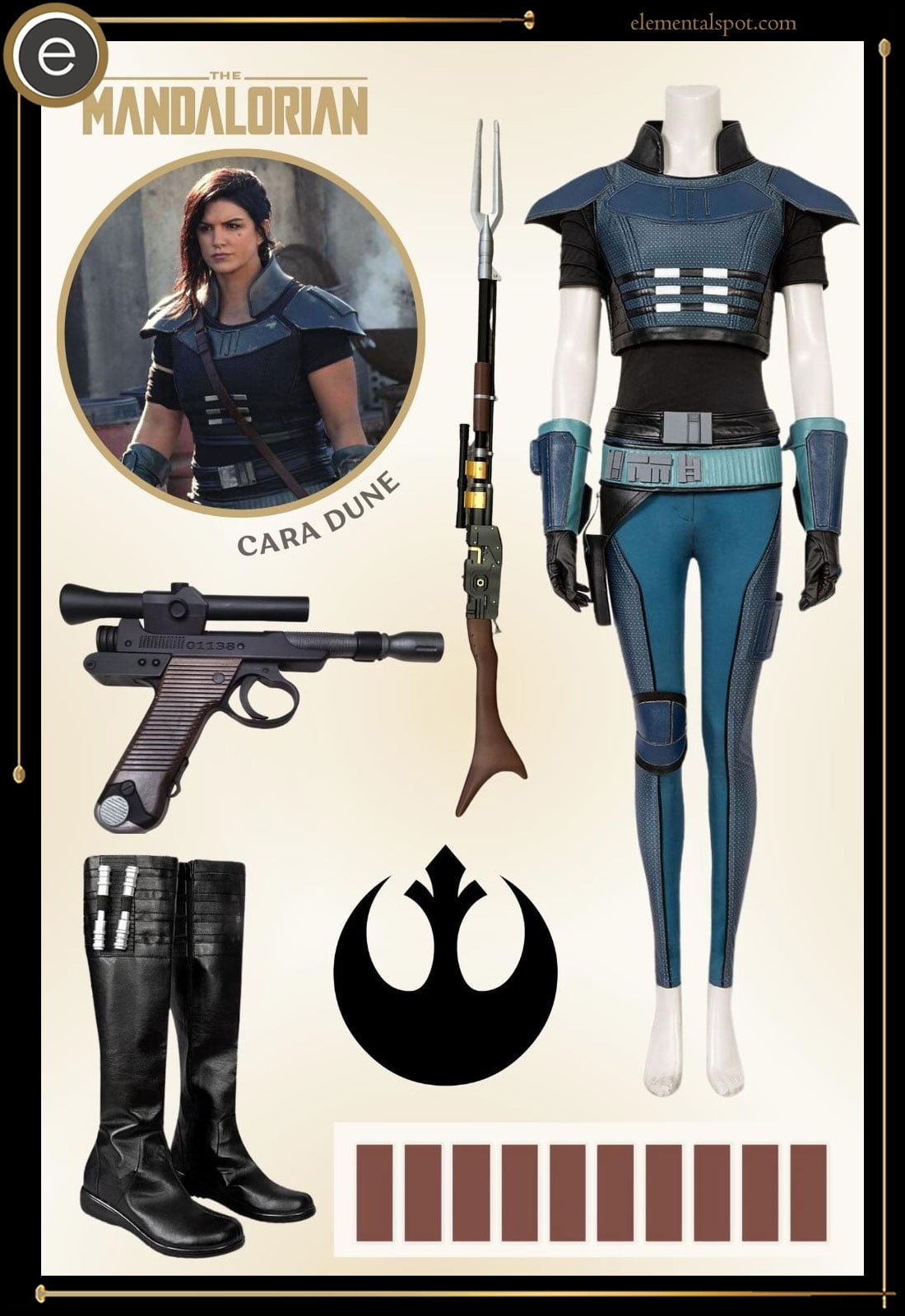 Cara Dune from The Mandalorian Costume Guide
Shopping List for Cara Dune from The Mandalorian Costume & Outfit
Cara Dune, the formidable and inspiring character from "The Mandalorian," has captured the hearts of Star Wars fans around the galaxy. Her strong personality, unwavering determination, and iconic look make her an excellent choice for cosplay and dress-up parties. In this guide, we'll take you on a journey to transform into the fierce former Rebel shock trooper herself. So, if you're ready to channel Cara Dune's strength and charisma, let's get started!
Getting to Know Cara Dune
Before we dive into creating the perfect Cara Dune costume, let's explore the origins of this beloved character. Cara Dune is a former Rebel Alliance shock trooper who later becomes a mercenary and eventually allies with the Mandalorian, Din Djarin. Her character embodies resilience, strength, and a deep commitment to fighting for what she believes in.
Cara Dune is a character known for her no-nonsense attitude and her fierce loyalty to her friends. She is a skilled warrior, proficient in hand-to-hand combat and marksmanship, making her a force to be reckoned with in the Star Wars universe. Her strong sense of justice and her willingness to stand up against oppression make her a beloved character among fans.
Cara Dune Costume Essentials
Now, let's break down the key components you'll need to create a stunning Cara Dune costume:
Cara Dune Full Costume: This includes her signature sleeveless top, combat pants, and arm gauntlets.
High Knee Boots: Choose a pair of sturdy and comfortable high knee boots to match her rugged look.
Blaster: Cara Dune is rarely seen without her blaster. Find a replica that closely resembles the one she carries.
Cara Dune Stripe Tattoo: This is a distinctive tattoo on her left cheek, just below her eye. You can use makeup or a temporary tattoo to recreate it.
Cara Dune Starbird Tattoo: On her right arm, you'll find the Starbird symbol, which represents her allegiance to the Rebel Alliance.
Rifle: For added authenticity, consider adding her blaster rifle to your costume.
Once you have gathered all the necessary items, it's time to assemble your Cara Dune costume. Start with the full costume, making sure it fits comfortably. Add the high knee boots and arm gauntlets to complete her combat-ready look.
Use makeup or a temporary tattoo to recreate the distinctive stripe tattoo on your cheek. The Starbird tattoo can be drawn or painted onto your right arm.
Finally, don't forget to wield Cara Dune's blaster with confidence. This accessory is essential to fully embody her character.
Cara Dune's character design is a testament to the creativity of the Star Wars franchise. While there isn't a specific costume designer to credit, the team at Lucasfilm deserves recognition for bringing this iconic character to life.
In conclusion, dressing up as Cara Dune allows you to embody the strength, courage, and determination that define her character. Whether you're cosplaying for an event or simply celebrating your love for "The Mandalorian," becoming Cara Dune is a fantastic choice.
We Also Recommend
Looking for more Cara Dune cosplay inspiration? Check out "10 Cara Dune Cosplay Even The Mandalorian Would Approve Of" on Screen Rant for additional costume ideas and tips. And for more costume tutorials and ideas, explore our costumes section. Embrace the galaxy's warrior spirit and step into the shoes of Cara Dune!
Missing an Outfit Inspo? Submit your idea and we'll make it happen!
Monthly Newsletter
Subscribe and get your Halloween costume ideas from us each year.