Dress Up Like Captain Obvious
If you are looking for a good Captain Obvious costume for Halloween or a big cosplay event, here's the winning formula for creating the most exciting outfit of the party! Let's see how to dress up as Captain Obvious from .
Costume Guide For COSPLAY & HALLOWEEN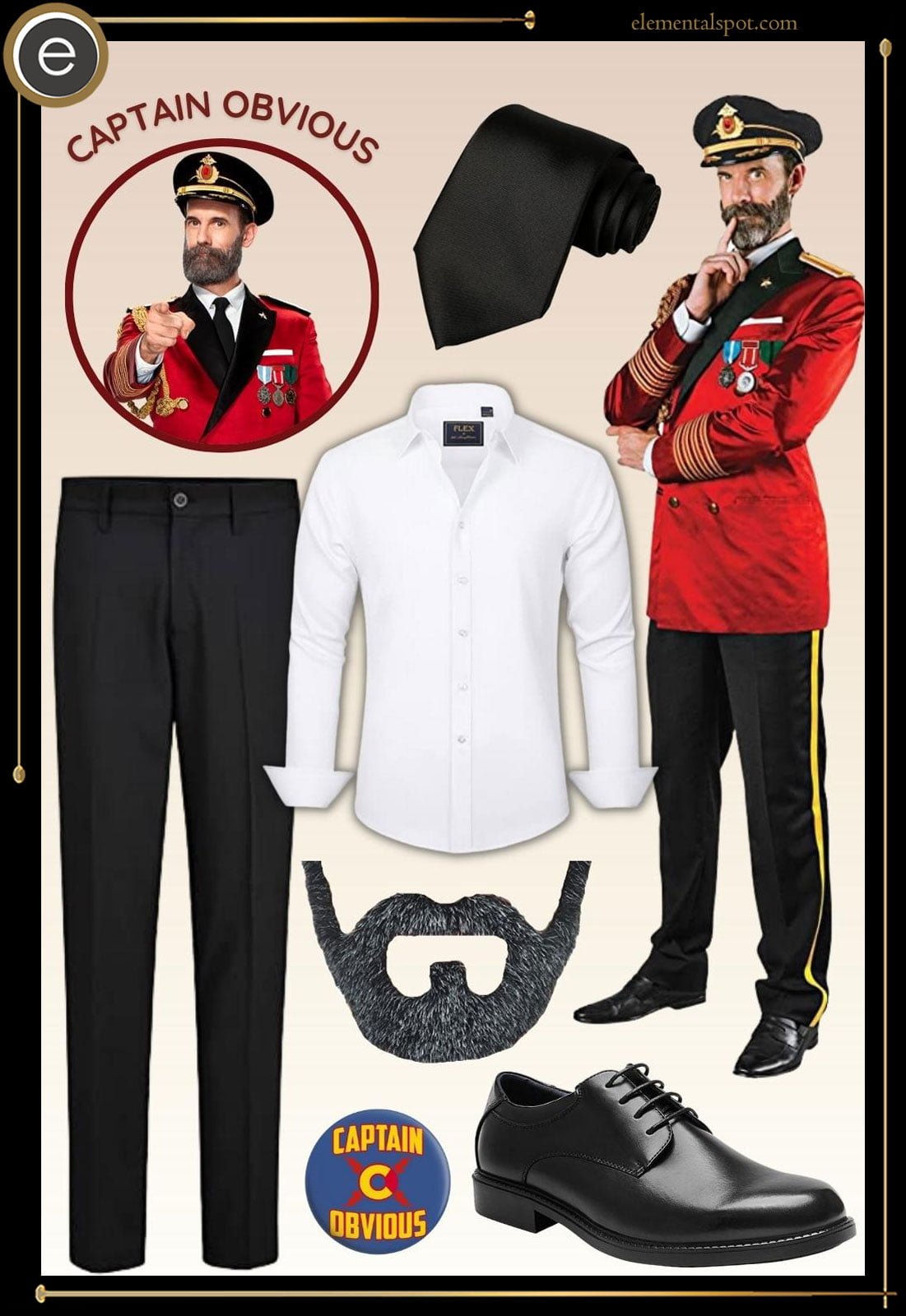 Captain Obvious from Costume Guide
Shopping List for Captain Obvious from Costume & Outfit
Captain Obvious, the iconic character from a popular hotel advertising campaign, is known for stating the obvious in the most hilariously straightforward manner. Dressing up as Captain Obvious is not just about wearing a costume; it's about embodying a spirit of clarity and simplicity with a touch of humor. In this guide, we'll show you how to create the perfect Captain Obvious costume for your next dress-up party or cosplay event.
Getting to Know Captain Obvious
Before we delve into creating the Captain Obvious costume, let's take a moment to understand the character's origins. Captain Obvious is a fictional character who appeared in a popular series of hotel advertising campaigns. He's known for stating the most obvious and mundane things in situations where they're entirely unnecessary but delivered with unwavering sincerity.
Captain Obvious's personality is characterized by his unrelenting commitment to stating the obvious. He's straightforward, to the point, and often leaves people chuckling at his hilariously clear observations. His costume reflects this simplicity, making it a fun and unique choice for any costume event.
Captain Obvious Costume Essentials
To transform into Captain Obvious, you'll need the following items:
Captain Obvious Jacket With Hat: The signature red jacket with a matching hat is a must for this costume.
White Longsleeve Shirt: Wear a white longsleeve shirt under the jacket for a clean and crisp look.
Black Trousers: Opt for a pair of black trousers for a classic and understated appearance.
Black Tie: A simple black tie adds a touch of formality to the outfit.
Black Oxford Shoes: Complete the ensemble with a pair of black Oxford shoes for a polished look.
Fake Beard: Captain Obvious is often seen with a well-groomed beard. You can use a fake beard to achieve this look.
Assembling your Captain Obvious costume is a breeze. Start with the red jacket and hat. Layer the white longsleeve shirt underneath and add the black tie for that touch of formality. Pair it all with black trousers and black Oxford shoes for a complete and unmistakably obvious outfit.
To truly embrace the character, consider wearing a fake beard, or if you prefer a clean-shaven look, you can skip this step. The key to Captain Obvious's costume is simplicity and clarity, so avoid any overly complicated additions.
Some YouTube Inspirations for a Captain Obvious Costume
For a visual guide on creating your Captain Obvious costume, check out some YouTube videos :
In conclusion, dressing up as Captain Obvious is a fun and lighthearted way to make a statement at any costume event. It's a costume that celebrates the art of clarity and simplicity in a humorous way.
Looking for more costume inspiration? Explore our costumes section for a wide range of creative costume ideas and tutorials. Whether you're aiming for humor or sophistication, there's a costume waiting for you to discover. Embrace the obvious and enjoy the laughter that comes with it!
Missing an Outfit Inspo? Submit your idea and we'll make it happen!
Monthly Newsletter
Subscribe and get your Halloween costume ideas from us each year.