The MR Collection – True design classic
The MR Lounge Chair, One of the earliest. C.1927. Steel furniture was designed by Ludwig Mies van der Rohe.
Regarded as one of the most important figures in the history of architecture, Ludwig Mies van der Rohe's 'less-is-more' approach to design was the gold standard for many generations of modern architecture. His legendary career started humbly at his father's stonemasonry business, giving him an early appreciation of material and structure. From there he apprenticed with furniture designer Bruno Paul in Berlin before joining the office of Peter Behrens, an architect and painter at the forefront of the modern movement.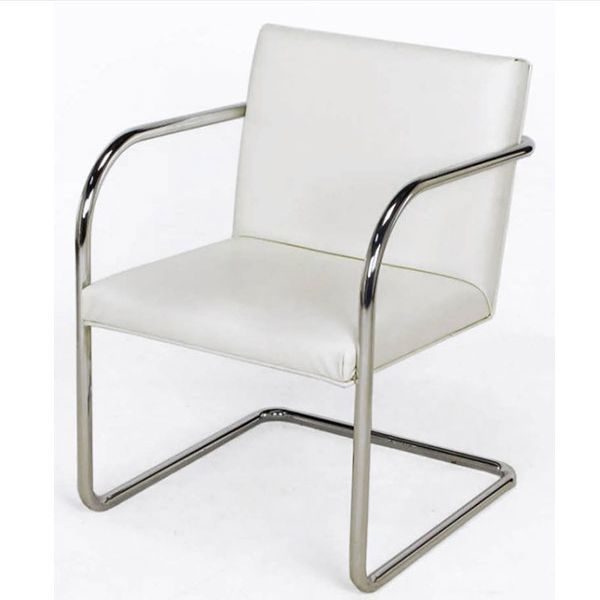 Mr Dining Chair
In 1912, Mies established his own office in Berlin. Through furniture, residential projects and extraordinary, yet unrealized concepts for skyscrapers, he gained recognition as a leader of the German modern movement. As such, he was selected to design the German Pavilion at the 1929 International Exposition in Barcelona.
Mies served as Vice President of the Deutscher Werkbund and Director of the Bauhaus from 1930 until it closed in 1933. He immigrated to the United States in 1938 to become the director of architecture at the Armour Institute (later the Illinois Institute of Technology). From his Chicago-based practise, Mies designed a portfolio of buildings that changed the face of American institutional architecture ― the most notable examples being the IIT campus and the Seagram Building in New York.

The origins of the bent-steel cantilevered chair are somewhat murky, but generally, three names come up in the discussion. Marcel Breuer is widely credited with pioneering the exploration of the material, Mart Stam seems to be the first to conceive a "chair without back legs", and Mies van der Rohe is remembered as the one who made it beautiful.

It is believed that Mart Stam described his idea—a continuous loop of steel (he used a thinner gauge gas pipe in the earliest versions) with a cantilevered seat—at a meeting of the Werkbund in 1926. In attendance were Marcel Breuer and Mies van der Rohe, both of whom were inspired to design cantilever chairs of their own in the coming months. Mies replaced the right angles on the front legs with a graceful curve which had the advantage of increasing elasticity while preventing material fatigue.
Over the next five years, Mies would develop an entire series of tubular steel designs now presented by Knoll as the MR Collection.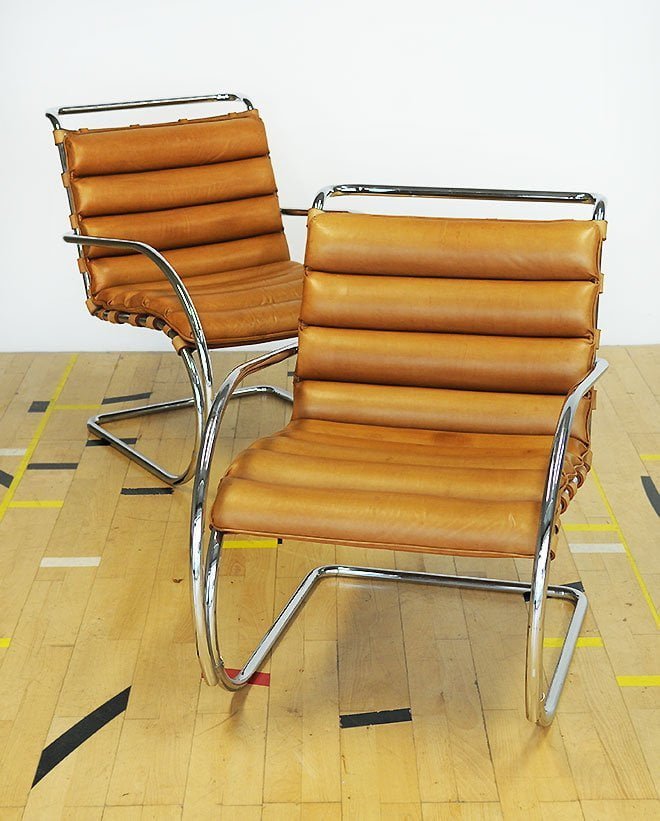 The MR Collection represents some of the earliest steel furniture designs by Mies van der Rohe. The material choice was inspired by fellow Bauhaus master Marcel Breuer, while the forms are thought to be modern derivatives of 19th century iron rocking chairs.
We've spotted the MR chaise lounger in films such as Widows and The Affair.