The Eras Tour: Inside The Incredible Tour Wardrobe of Taylor Swift
What can you say about Taylor Swift and her Eras tour…
Well the sell out worldwide tour, rumored to have made her a billionaire, added another string to her bow with a cinema release in October. So even if you weren't one of the lucky ones who got tickets to an arena performance, or you just want to relive it, you can still marvel at the impeccable custom made. 
With her shows coming in at just over 3 hours and 15 minutes, and including an incredible setlist of 44 songs, it is no surprise that there are costume changes galore. From glittering ball gowns to sparkling bodysuits, but not every setlist is the same and not every costume makes the cut each night. So we have rounded up what we think might just be the best of the best Taylor Swift Eras tour outfits below.
The Lover Era and Taylor Swift's Versace Blazer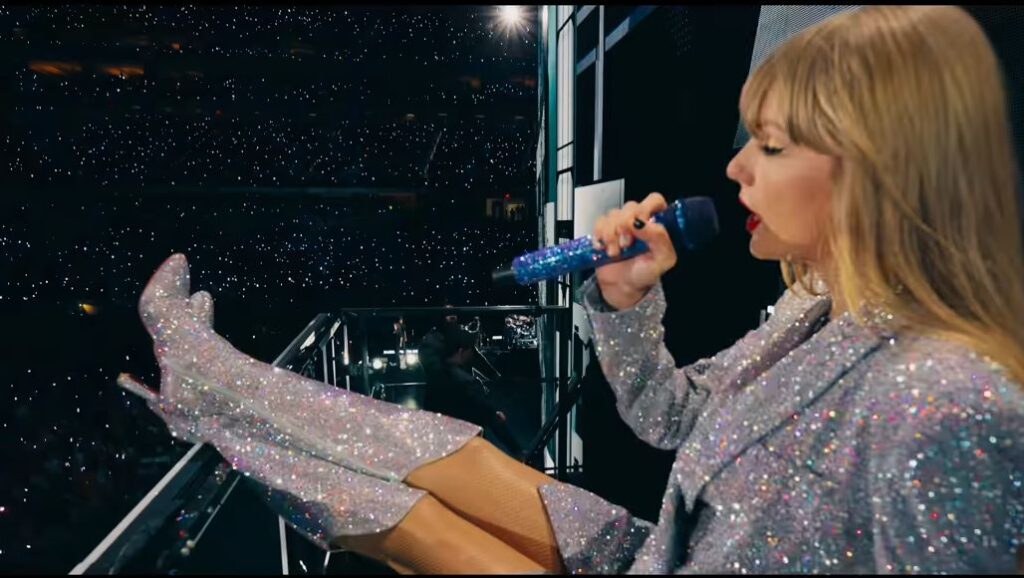 Lover was Taylor's seventh studio album but the first after she left her troubled record label, and she calls this her "love letter to love" where she could focus on her newfound artistic freedom. Therefore it's no surprise that before she sings her 2020 hit "The Man" that she slips into this powerful silver studded Versace blazer, shoulder pads and all. Pairing it with custom Christian Louboutins and her trademark fierce attitude.  
Roberto Cavalli in the Fearless Era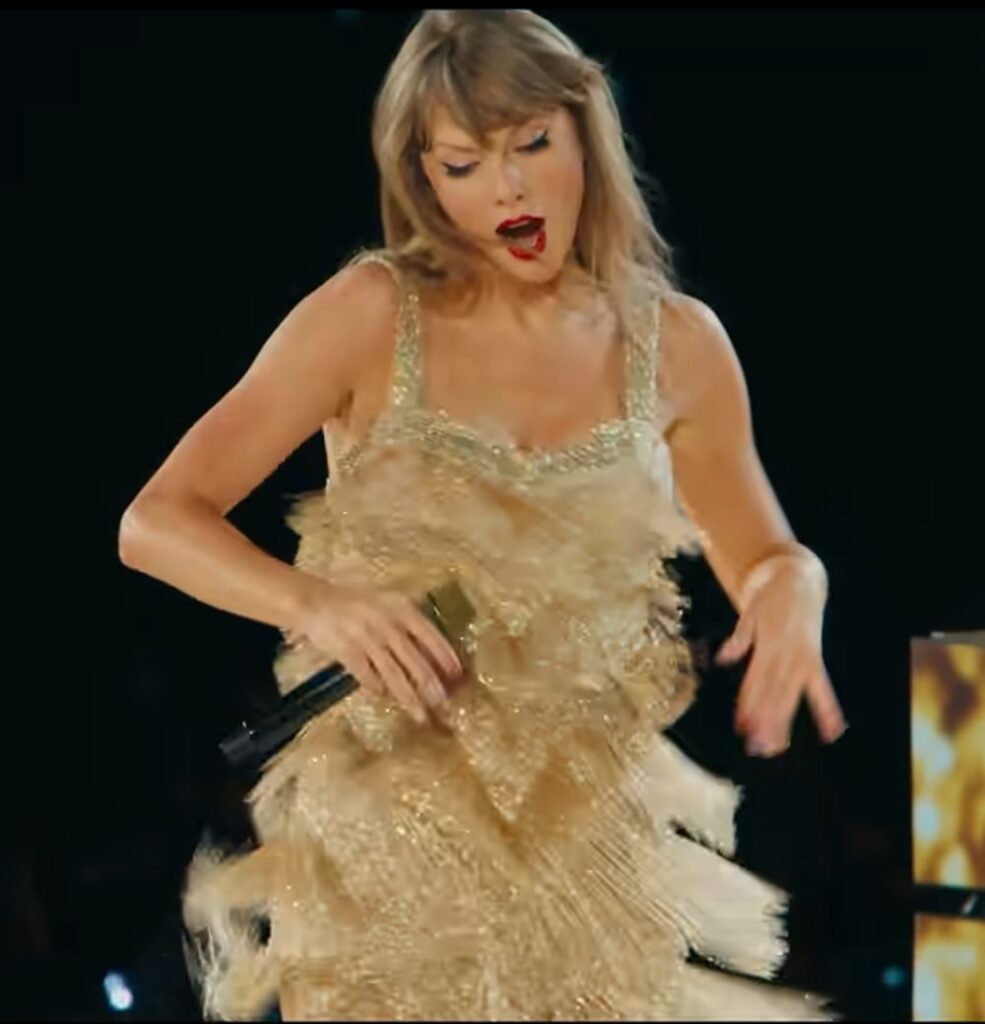 One of the most prominent looks throughout Taylor Swift's Eras tour wardrobe is fringing, and once you have seen it shimmering around her body as she sings and dances her way around the stage you will understand why. With Fearless marking Taylor's rise in the music industry at just 19, this custom gold Roberto Cavalli dress just reinforces the star power and style icon status she has secured for herself over the years.   
Taylor Swift's Acoustic Interlude
As a long-time fan and collaborator, Taylor chose a deceptively simple looking Jessica Jones dress for her pared back acoustic interlude. With ruffles, pleats and a few delicate sequins the figure hugging silhouette, worn this time in a striking magenta color, really lets Taylor's singing and accompanying music shine.
The Whimsical Evermore Era
The perfect follow on from the effortless acoustic set, Taylor flawlessly moves into her whimsical Evermore era. A mystical and foggy tree lined stage, for her hypnotizing hits like "Willow" and "Champagne Problems," is offset with her mustard yellow Etro dress. But this is Taylor Swift, and this dress is for the Eras tour so as well as gentle ruffles and corset top detail, are the intricately beaded embroideries traveling down the bodice and over the flowing skirt.  
That Reputation Catsuit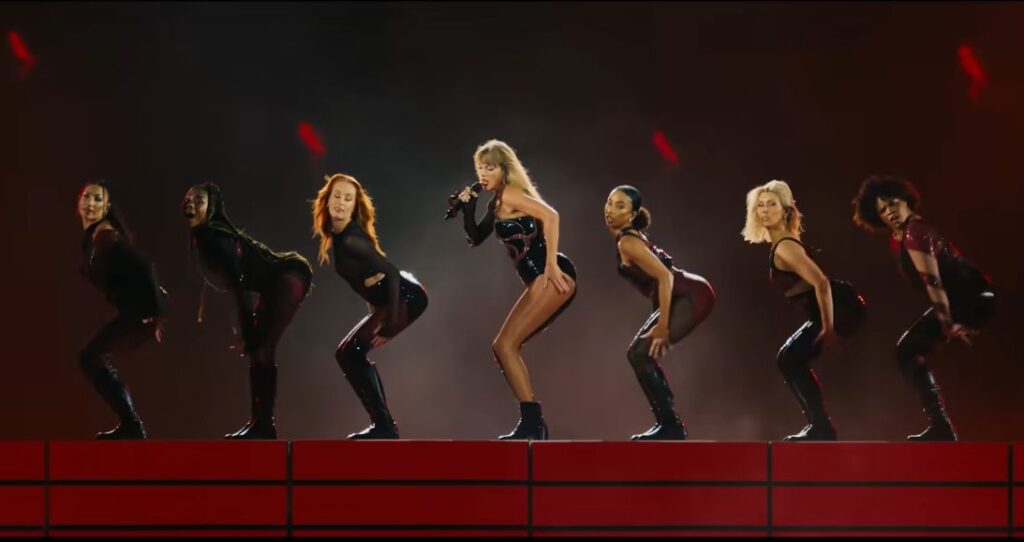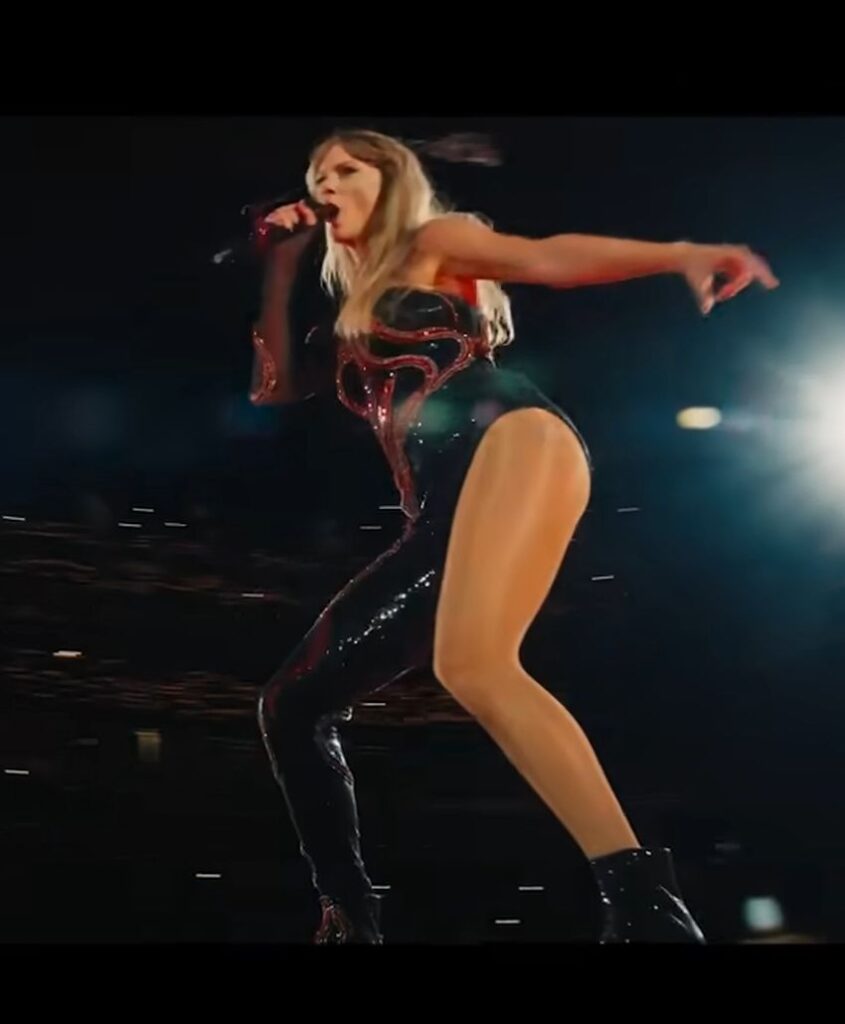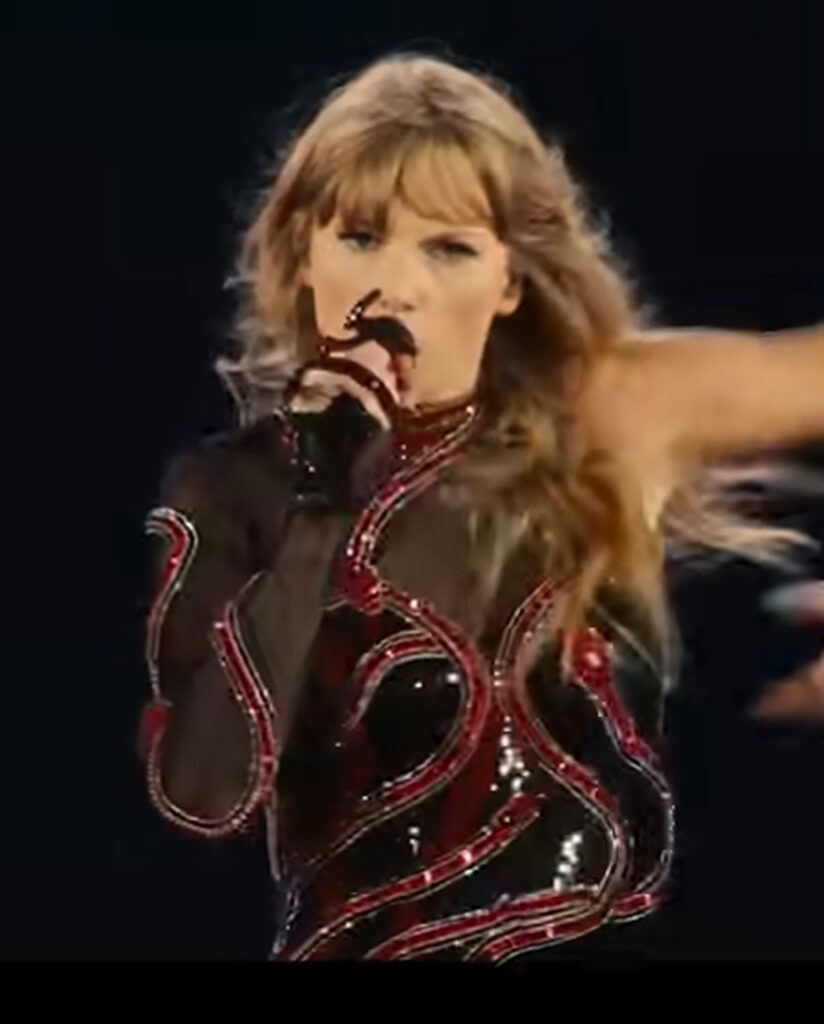 If there is only one Taylor Swift Eras tour outfit that most people are going to remember then it will surely be this Roberto Cavalli catsuit. Her Reputation tour in 2018 was when she fell in love with bodysuits and they became a regular part of her performance wardrobe. But this asymmetrical, black, and red fully sequined catsuit, with the now famous Reputation snake pattern twisted around her body will be hard to top. 
Taylor Swift's Enchanted Speak Now Look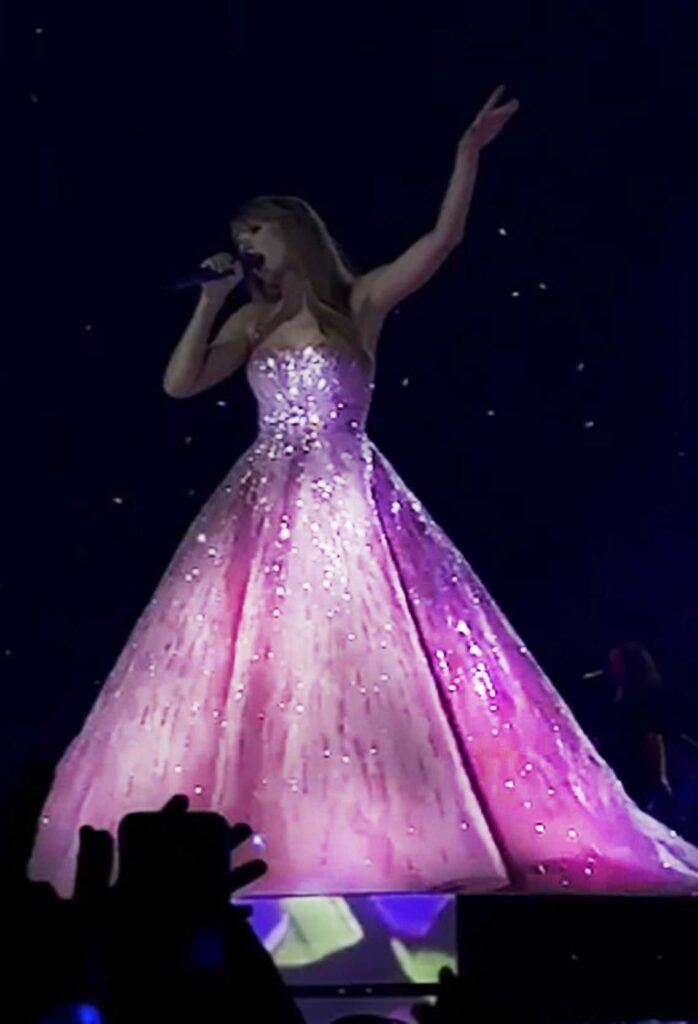 Having her Disney princess moment, the Speak Now set is just one staggeringly beautiful over the top ball gown after another. But with this being the shortest musical era on the tour, with just the one song "Enchanted," everynight really is a wardrobe surprise. Yet it was only night two when she brought out this Zuhair Murad ball gown with its subtle pink hue and slightly less subtle sparkling sunburst sequin pattern, that we won't forget in a hurry.    
The Red Era: Who's Taylor Swift Anyway? Ew.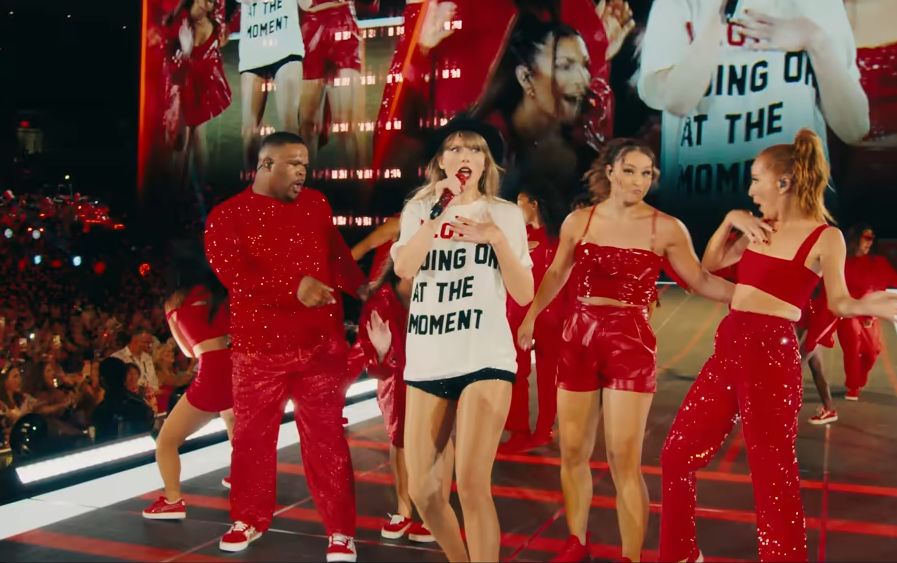 How do you follow the glamor and show stopping gowns of Speak Now? Well, by recreating your "22" music videos lyric t-shirt look, but making it Taylor Swift Eras Tour outfit worthy and going full sequin. 
Alberta Ferretti and the Folklore Era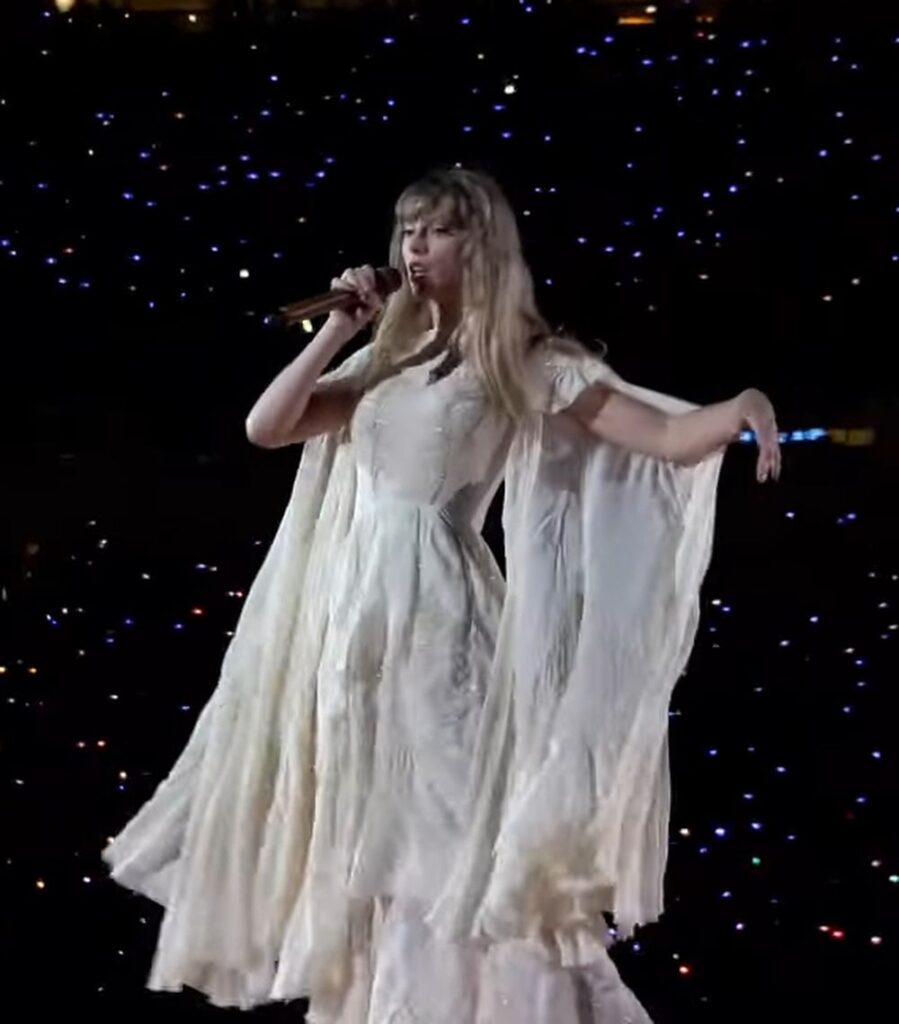 Back with the whimsy, Taylors surprise eighth studio album Folklore is a heady mix of mellow ballads, indie folk and electro-acoustic inspirations, and needed a matching beautifully soft look. Which is where her collection of Alberta Ferretti dresses comes in. Floaty and delicate in shades of green, peach and off-white, the sparkling detailed chiffon and long flowing cape sleeves give Taylor an ethereal feel, as she taps into the escapism and romanticism of Folklore.  
Taylor Swift's 1989 Eras Tour Outfits
When you find a look that works, why mess with it. Especially when you could just ask designer Roberto Cavalli to make the custom set in multiple colors. A throwback to Taylor's 1989 World tour outfits, the matching skirt and cropped top are adorned with colorful beads and sequins. And already seen in green, blue, orange, and this pink, what other colors might she have before the show is over?  
Taylor Swift's Midnights Oscar De La Renta Moment
The epitome of "Bejeweled," the Taylor Swift Eras tour outfits finish on a sparkly and glistening high as the singer brings us right up to date with her latest hits in the Midnights Era. Yet there really isn't much to say about this painstakingly hand beaded midnight blue Oscar De La Renta bodysuit that you can't see with your own eyes.
The perfect conclusion to 200 minutes of classic Taylor songs, screaming Swifties and iconic costumes, because as the star sings herself "a diamond's gotta shine."