Best Fashion Moments in "Glass Onion: A Knives Out Mystery"
I can't help but rave about Glass Onion: A Knives Out Mystery's brilliant costume designer, Jenny Eagen. She has a way of turning ordinary clothing into iconic fashion statements. Needless to say, our expectations were sky-high for the second Knives Out movie, and Jenny did not disappoint – in fact, she exceeded them all! I'd love to relive some of the best Glass Onion outfits from the film with you.
With Glass Onion, we enter a world of enchanting ensembles: 'A Knives Out Mystery,' the highly anticipated sequel to the hidden gem of 2019, 'Knives Out.' We were prepared to be mesmerized by the always charming Daniel Craig in his role as the elegant Detective Benoit Blanc. However, the highlights that we emphasize in this article are the magnetic glass onion outfits. As the plot twists and turns, so do the impeccable outfits worn by our versatile cast, creating a visual feast for the eyes
Glass Onion Andi's Outfits (Janelle Monae)
Janelle Monáe's character in Glass Onion effortlessly steals the show with her fashion choices. Her outfits are sophisticated, rich, and effortless, making her stand out in every scene.
Andi Brands' (Janelle Monáe) Earrings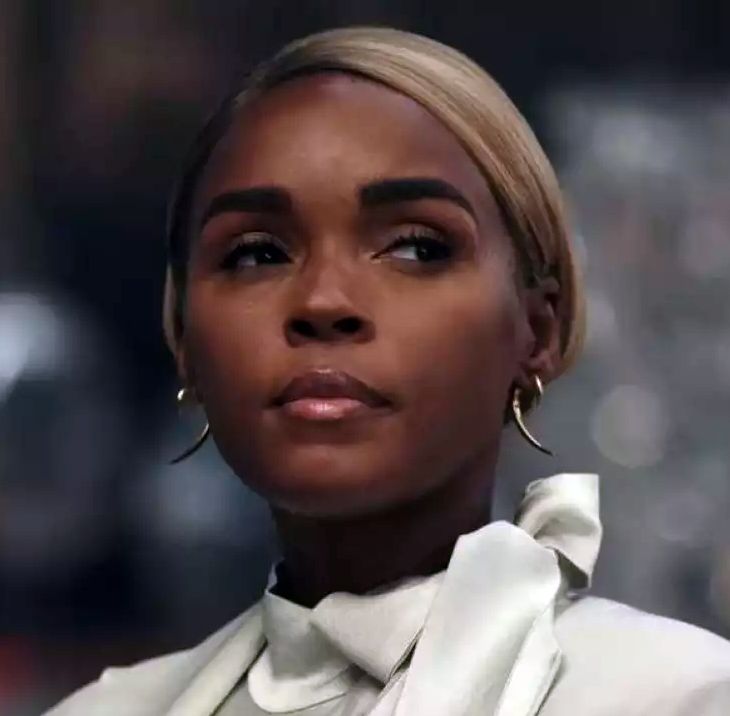 The Shaun Leane Hook Golden Earrings worn by Andi Brand (Janelle Monáe) in 'Glass Onion: A Knives Out Mystery' exude an aura of elegance and allure. The exquisite craftsmanship of these earrings beautifully complements Janelle Monáe's character, adding a touch of sophistication to her on-screen presence. Their unique design and golden hue make them a standout accessory, enhancing the overall visual appeal of the film.
Andi Brands' (Janelle Monáe) Sunglasses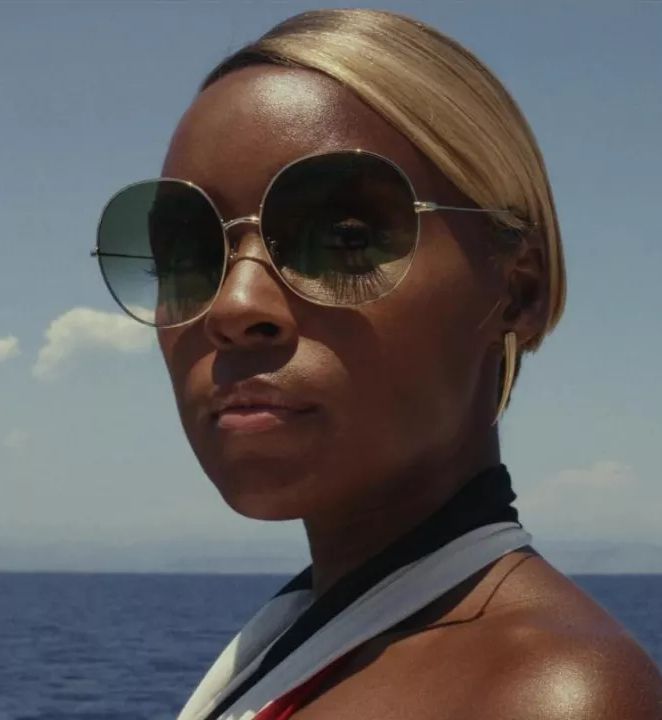 These Oliver Peoples' round oversize sunglasses exude a timeless and retro-inspired style, adding a touch of mystery and intrigue to Andi's character. With their oversized shape and sleek design, these sunglasses become a signature accessory, enhancing the overall fashion statement of the film.
Andi Brands' (Janelle Monáe) Color Blocks Dresses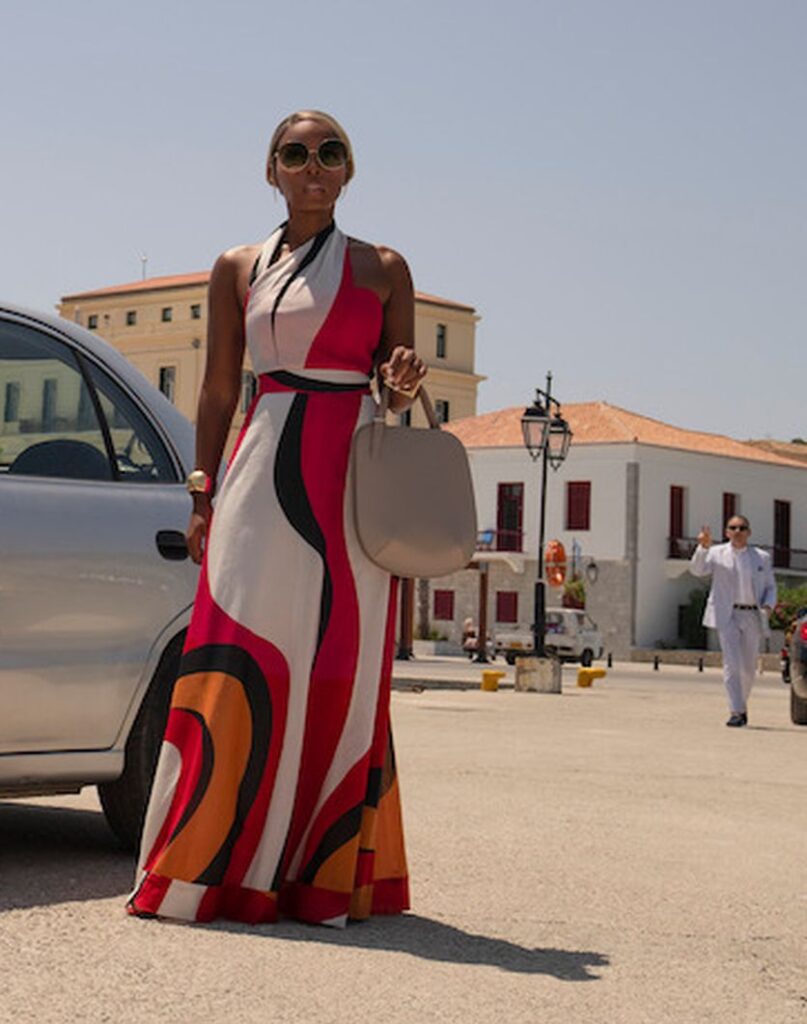 Her appearance in a custom-made cycles-and-patterns boat dress leaves the entire cast speechless. This dress, meticulously crafted to perfection, is the epitome of revenge attire for an unexpected entrance at your husband's party. If you desire a similar ensemble, have a look at this multicolored ETRO Dress (On Sale right now)
For cosplayers, here is an Andi Brand Costume Dress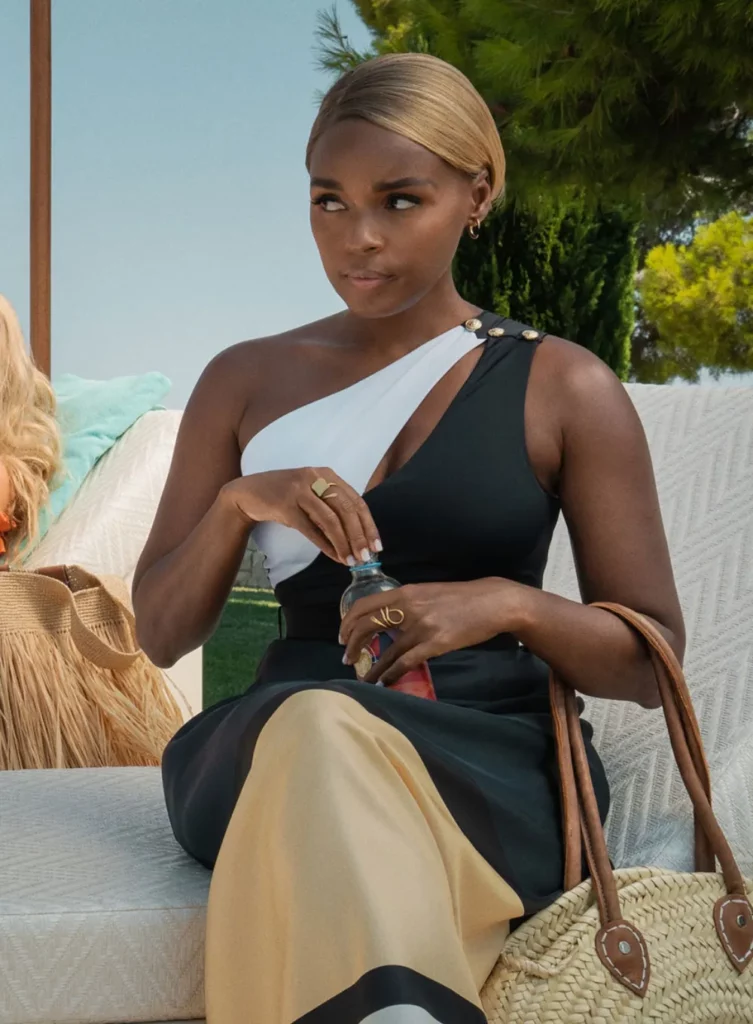 Andi Brand's Black & White One Shoulder Dress Outfit in 'Glass Onion' is a stunning and bold fashion choice. The contrasting black and white color combination adds a striking visual impact, while the one-shoulder design adds an element of elegance and sophistication to the ensemble.
Andi Brands' (Janelle Monáe) Ivory Suit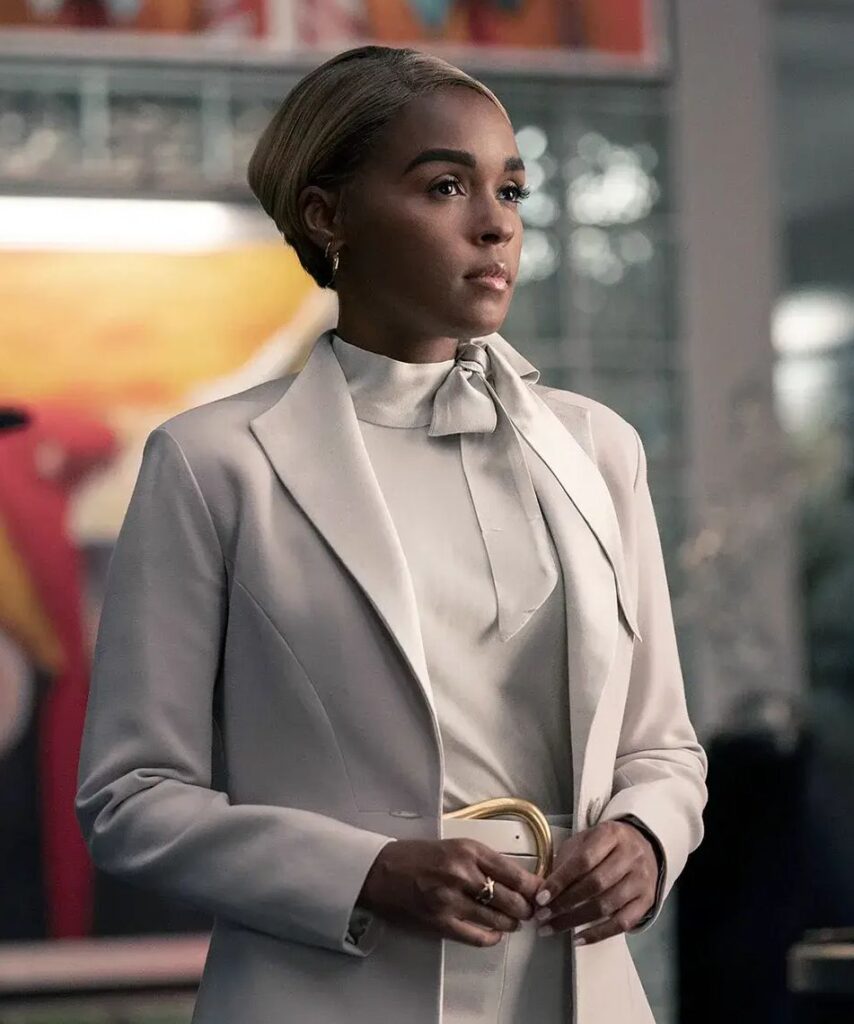 As we've observed, Andi's wardrobe has played a pivotal role, and her final ensemble demands attention. The ivory suit, accompanied by the captivating bow-tie shirt, takes center stage and leaves a lasting impression.
Watch the Glass Onion Cast's video below, featuring Daniel Craig & Janelle Monáe breaking down their looks.
Catch the full movie on Netflix for a thrilling and captivating experience. Our tip: If you encounter Netflix restrictions, preventing you from accessing numerous movies and series due to regional limitations, consider using a VPN for Netflix. VPNs can unlock the full movie collection by changing your location temporarily. Look for a reliable provider like VeePN, offering a free trial for Netflix access.
Glass Onion Benoit Blanc's Outfits (Daniel Craig)
Step into the mesmerizing world of Glass Onion and discover Benoit Blanc's captivating outfits that seamlessly blend vintage charm with a modern flair.
Benoit Blanc's Vintage Beach Fashion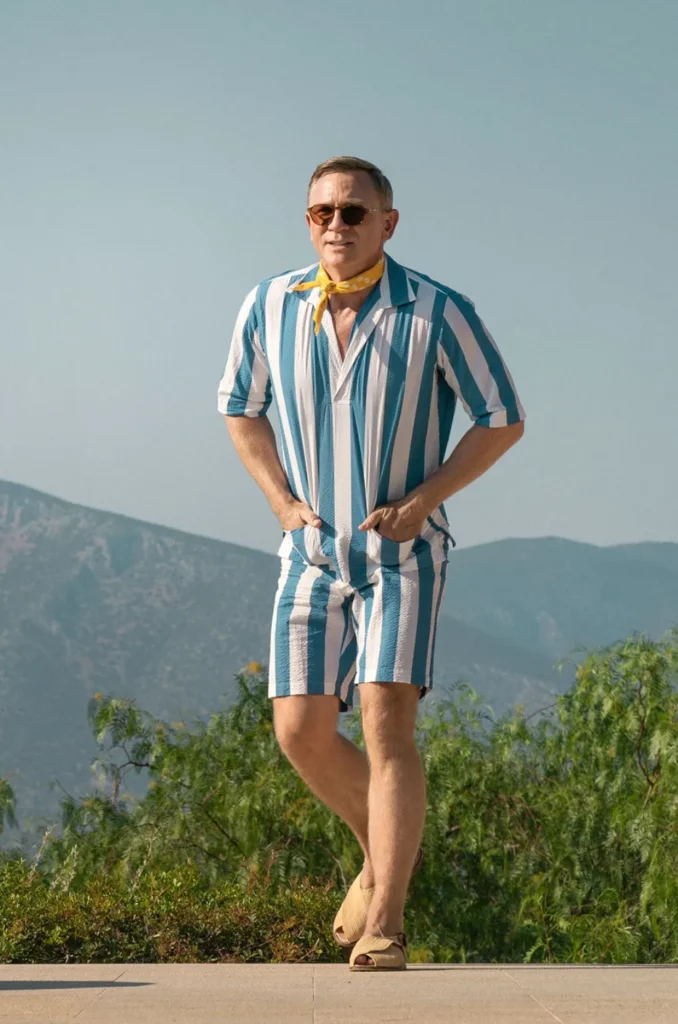 Vintage beach fashion shines with Benoit Blanc, the brilliant yet charming investigator. Picture this: poolside at billionaire Miles Bron's mansion, Blanc channels a 1950s movie star in a nautical-inspired ensemble. With a striped jump suit bermuda swimsuit, scarf, and rope sandals, he embodies timeless elegance. Gone are fluorescent lycra and flip-flops; Blanc's standout piece is a striped two-piece swimsuit from the Glass Onion collection. This vintage-meets-modern look leaves a lasting impression.
Unveiling the Charm: Benoit's Salmon Shirt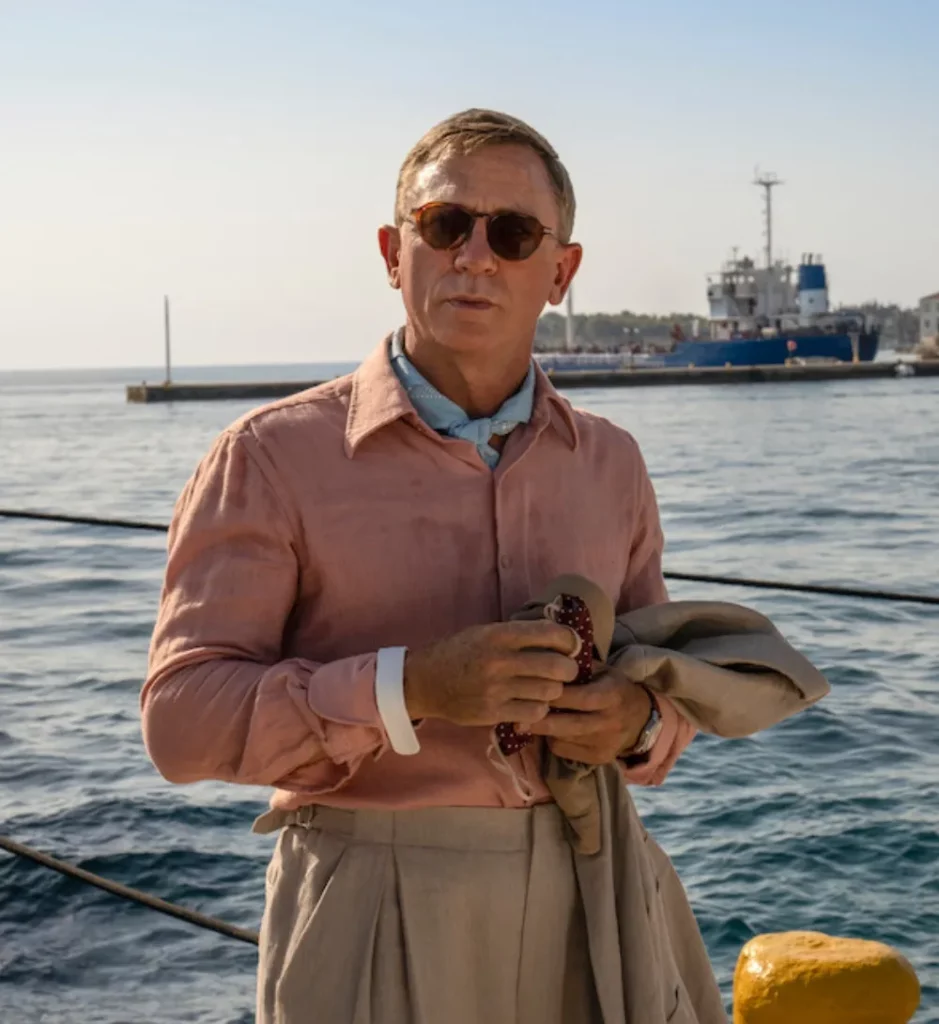 Ah, Benoit Blanc, a name that dances on the lips like a charming melody. And there he is again, captivating us with a shirt that speaks volumes. Behold the mastery of his linen suit, flawlessly accompanied by a shirt that embraces its own wrinkles in a truly extraordinary manner. Picture a nuanced hue, gracefully residing between the realms of peach, salmon, and clay—a color that exudes sophistication beyond compare.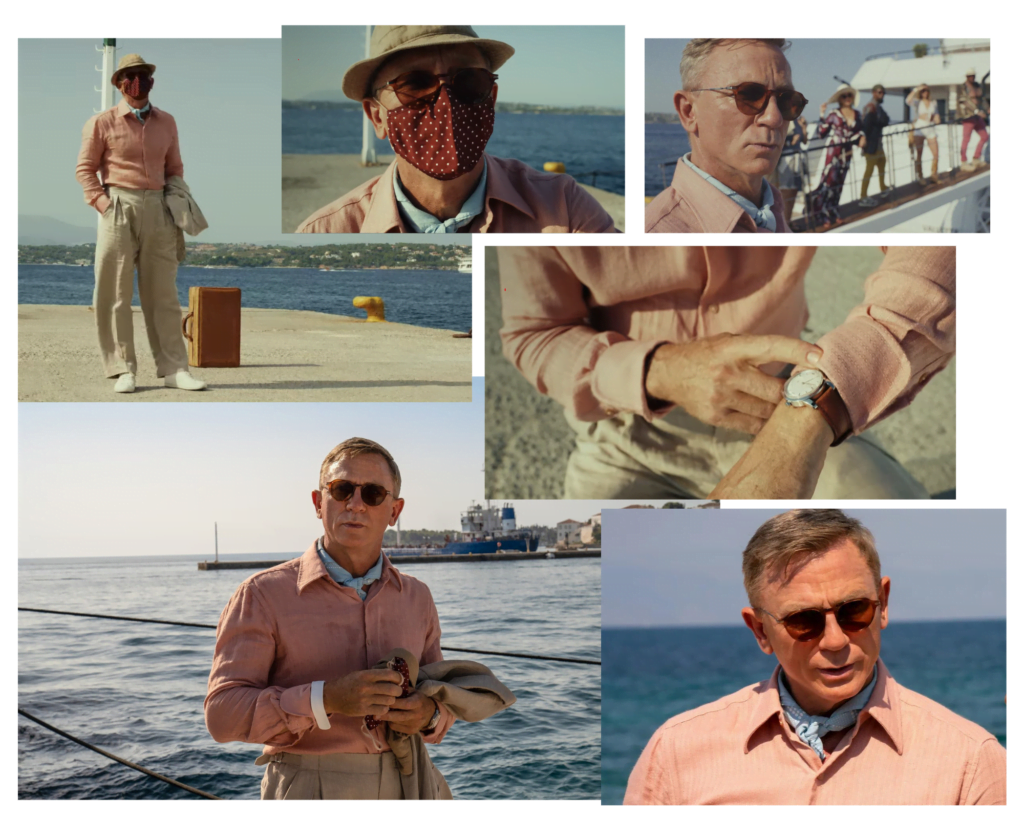 In our humble opinion, this shirt stands as the pinnacle of cult fashion within the entire film. It possesses an allure of Glass Onion Outfits that commands attention and admiration. And how is it best worn? Why, with the azure scarf elegantly encircling the neck, of course. Such is the stuff dreams are made of, a sartorial treasure I would go to great lengths to possess. Oh, the allure of it all…
Glass Onion Birdie Jay's Outfits (Kate Hudson)
If you're looking for examples of Birdie Jay's extravagant style, you can check out this article from Netflix. It has some great insights into how costume designer Jenny Eagan styled the cast of Glass Onion. You can also check out this article from The Zoe Report which has some great pictures of Kate Hudson's premiere outfits for Glass Onion.
And here is our favorite one Jay's Glass Onion Outfit:
In the movie Glass Onion, Kate Hudson's character Birdie truly stands out as a unique personality. To put it mildly, she's completely tone-deaf and has a history of being insensitive. Sadly, she rarely shows empathy for anything other than her career. So it's not surprising that Birdie opted for a flashy nude mesh mask during the pandemic, which came across as insensitive and unsightly. Despite this, it definitely made a bold fashion statement in the film's storyline.
Captivating Glass Onion Outfits: Fashion's Lasting Impression
As the curtains draw to a close on the mesmerizing display of fashion at Glass Onion Outfits, it is evident that the ingenious vision of the costume designer has truly come to life. Through the exquisite ensembles crafted for Andi, Blanc, and Jay, their impeccable taste and captivating style have been beautifully realized.
Just as Marta's My House mug became an iconic symbol in "Knives Out," the unforgettable Glass Onion outfits in this fashion showcase are poised to leave an equally lasting impression on style enthusiasts worldwide.